DrupalCon Prague 2022 - A full program for the drunomics team
After two years of online and hybrid events, our team was happy to participate in an on-site congress again. Not only has our remote team grown during this time, but our team at the Vienna office of drunomics has too. We were able to send five to the DrupalCon Prague 2022. (external link) For our project manager Jeremy, the preparatory work began in March as a track reviewer for the track "Users & Editors".
In addition to three sessions and a BoF, we were also able to get involved with sponsorship on Contribution Day.
Day 1: Tuesday September 20, 2022
As usual, the first day was all about networking with the Drupal community and ended in the evening with a big Drupal Austria get-together in a typical Czech restaurant.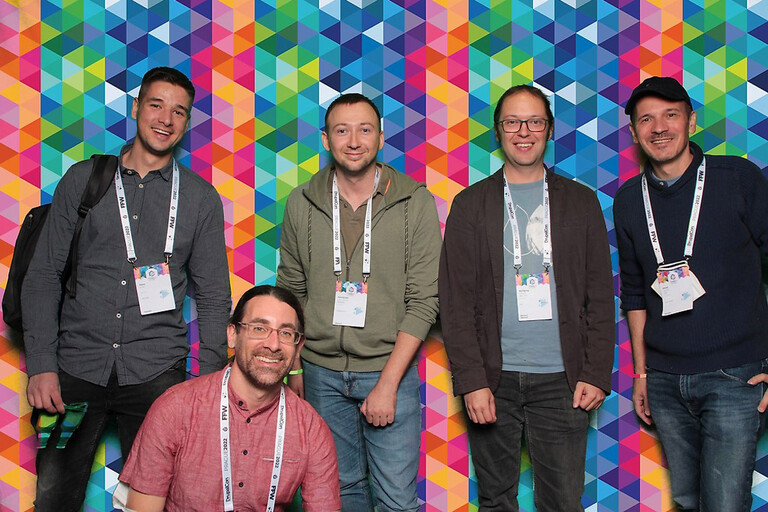 drunomics Gmbh
Day 2: Wednesday September 21, 2022
On Wednesday we started with our first session:
Session 1: Content Editing Challenges in a Decoupled (Drupal) Environment - by Jeremy Chinquist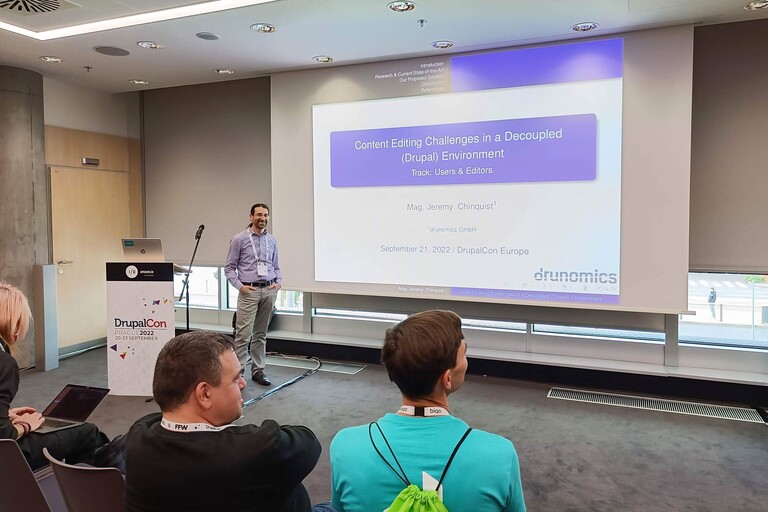 drunomics Gmbh

The standard Drupal 9 content editing experience is on-par with other major CMS systems. Editors are logged in and viewing their article on the front-end. Decoupled systems add another layer of complexity. This talk centers around how we addressed this complexity and what tools we developed. Jeremy gave insights into what the drunomics team learned from over two years of working in decoupled Drupal systems.
In the evening, Oliver and Wolfgang attended the CEO dinner with a comprehensive presentation of the "Global Drupal Business Survey" by Janne Kalliola from Exove. The results showed that our strategic orientation for the next few years is a big step in the right direction.
Day 3: Thursday September 22, 2022
The third day was tough with a BoF and two simultaneous sessions.
Already in the morning, Wolfgang held a birds-of-a-feather ("BoF") discussion round on the subject of Lupus Decoupled Drupal - our new initiative to simplify a component-oriented approach to Decoupled Drupal with Nuxt.js and with the goal to establish it as an open source project in the Drupal community.
Session 2: End to end testing with Playwright - by Petar Basic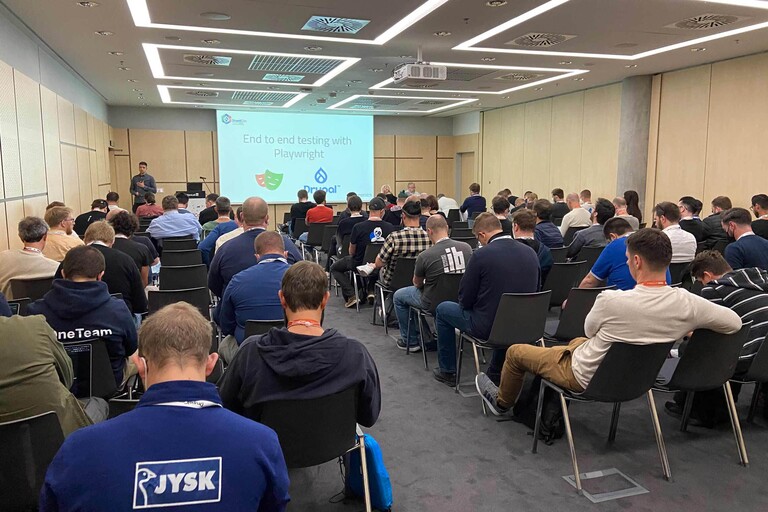 drunomics Gmbh

Playwright is a framework for Web Testing and Automation. Built to enable capable and reliable cross-browser web automation, it offers a developer-friendly way of writing and executing tests. In this session, Petar's goal was to share the lessons we learned when replacing a traditional Behat test framework with Playwright and he showed our experience with integrating Playwright tests into a Drupal project.
Session 3: Drupal - A Tool for JavaScript developers? - by Wolfgang Ziegler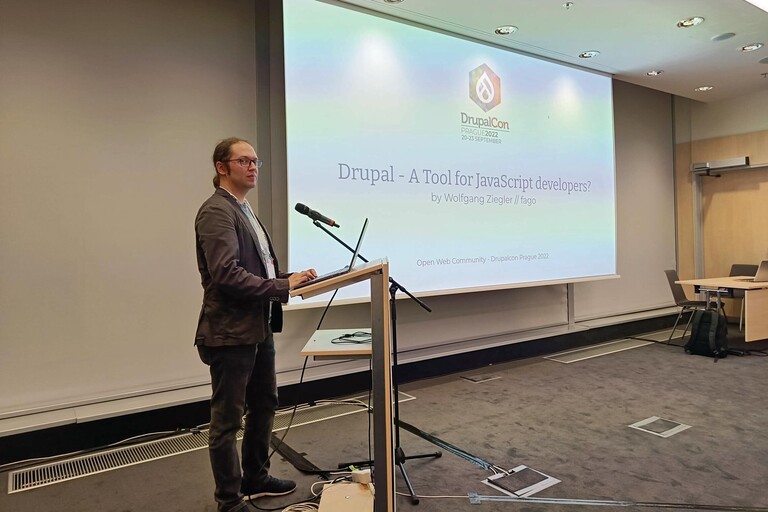 drunomcis Gmbh

Modern JavaScript frontend frameworks became the go to solution for a new generation of web developers - but how can we as a community make Drupal relevant to them? Wolfgang's sessions explored a shift of the Drupal site-builder paradigm to a new major target audience: JavaScript frontend developers, a new kind of site-builders.The session helped to explore the topic and shared ideas for Drupal to become an attractive solution for JavaScript developers to build upon.
At the end of the day it was time for the "closing session" where, in addition to the location of the next European DrupalCon (Lille, France), the next Drupal event in Vienna was presented together with Drupal Austria: Drupal Developer Days 2023 Vienna!
In the evening, our team, together with erdfisch, was able to achieve a fourth place at the Drupal Trivia Night and was rewarded with non-cash prizes for this achievement!
Day 4: Friday September 23, 2022
Last but not least, the Contribution Day concluded this great week. As a sponsor, Wolfgang welcomed the contributors on behalf of drunomics who appeared early in the morning. Our development team also actively contributed to make Drupal better together with the community. We decided to focus on Lupus Decoupled Drupal development!
Our commitment at this year's DrupalCon confirms that we, as part of the Drupal community, are involved in the development of Drupal and support the exchange of experiences within the community. In addition to contributing to the code, our team has been working to improve awareness of Drupal since the company was founded. We support the organization of various events (Drupal Austria Meetups, Drupal Camps Vienna, DrupalCons, ...) and are also involved in the Drupal Developer Days 2023 in Vienna, where we will take on an active role again.
More articles